Remote work series
COVID-19 has driven our work teams into distanced work arrangements. Let's face it. This transition IS NOT EASY. But, now that we've been at it for some months, we can figure out what is working best and rise above circumstances to meet our goals.
It is easy to look to leadership for direction and inspiration, but team success comes from the collective efforts of all of the team members. Are you helping your team thrive, or are you pulling it down?
Communication
I believe the most important thing you can offer as a team member is good and open communication.
Remote communication comes with challenges. When we communicate in person we absorb more than words. We unconsciously evaluate tone, body language, and facial expressions. All of these items are stifled in the video environment.
The video environment also introduces different issues. Technology failure, interruptions, and video lag can be very frustrating.
Here are three areas where you can contribute to your team video calls:
1. Visual Impact
Set up your computer in an area where you are well lit. Don't sit in front of a window where you will be backlit and just appear as a shadow. If you can sit facing a natural light source, you will be presented in your best light.

Set your computer so that your camera is at eye level. This brings you face-to-face with others in the virtual world. If you speak to the camera, rather than the images of your coworkers, they will feel as if you are speaking directly to them. This takes some practice to become natural.

Set up in a quiet place. The dining room table may be your designated home office, but the visual and noise distractions from others in your household can make you a problem on the team video call.

Minimize clutter and distractions in your background. I know one person who has her desk set up in a walk-in closet to provide the quiet she needs. A zoom background presents a professional and non-distracting frame for her during the call.

Avoid multi-tasking on a video call. We've all done it. We all know when someone is doing it. They are staring off in a corner. Their hands are busy on the keyboard. Their eyes are darting back and forth. And, they aren't participating to the conversation. Don't be that person. Give your coworkers the courtesy of your full attention.
2. Vocal Impact.
Close the door! Minimize interruptions and distractions as much possible.

Check your audio to ensure you are connected properly.

Use headphones so you can hear clearly and reduce background noise.

To mute or not to mute! Zoom etiquette calls for everyone but those who are speaking to mute their microphones to avoid unnecessary noise interruptions. This creates a secondary issue of forgetting to reactivate the microphone when you do want to speak. Remember to turn your mic on when it is your turn to talk. Be patient when you or others forget!

Sit close to your microphone to avoid an echo effect, or consider a clip-on mic for the best sound quality.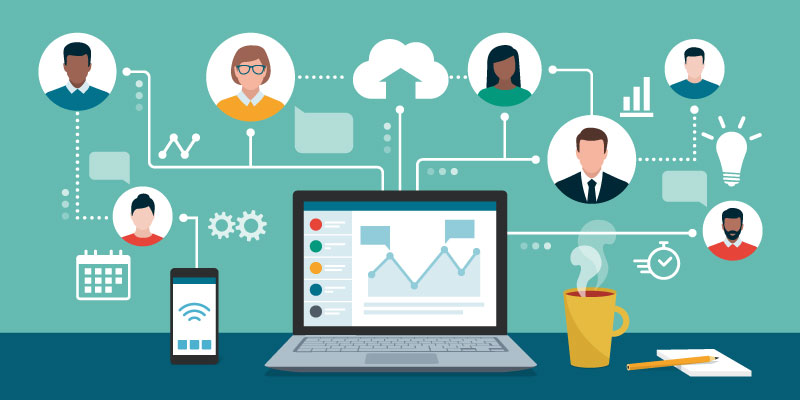 3. Verbal Impact.
On video calls, it's not only what you say, but how you say it. Take time to speak clearly and annunciate so others can understand you well over internet static. Look directly at the camera when you are speaking.

Be clear and direct and purposeful in your interactions. It is easy to misunderstand without the non-verbal cues.

Ask for clarification and input. Don't assume what others think or mean. Be clear about your intentions and clarify intentions of others. Ask questions and restate what you heard to ensure you understand what was meant.

Ensure your contributions make an impact. Focus on what is important. Let the small stuff slide.
The most critical tool in your communication toolbox is patience! Give yourself and others a break and focus on achieving together! Build some time into your meeting to connect, uplift, and strengthen your relationships with your co-workers.