Blue Skies Strategy Coaching
Empower your potential!
Transform your business, career, or personal life!

 

Blue Skies Strategy Coaching partners with you to accelerate, upgrade and enrich your business, career or personal life.

 We are certified in Intelligent Leadership Executive Coaching and have a 

proven approach to strategic planning and coaching that helps you clarify your goals, define what success looks like, identify solutions and build a concrete roadmap forward to achieve your desired vision and goals.

 

Let's start your journey today!
Let's Talk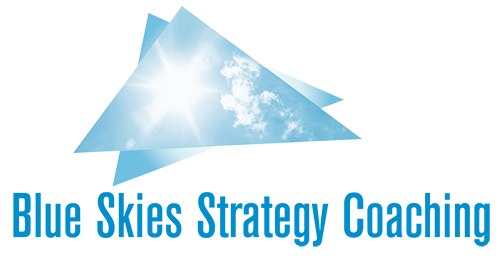 Do you want to become a more effective leader?  Our proven, step-by-step leadership coaching process, named one of the three "Top Leadership Development Programs that Change Lives," will help guide your path to great leadership.
Is your team ready to conquer your challenges? Our customized workshops will deliver an integrated plan that drives performance, optimizes team potential, and achieves results.
Are you feeling a bit stagnant and "stuck," or perhaps facing a new chapter in life or want to change jobs? Our strategic coaching process will help you define what is next—and how to get there.
Insight . Inspiration . Action